Once you click on the purchase / buy icon
We aim to despatch your artwork within 2-5 working days. Delivery in the current market may takes a further few days. We do allow 10 days as a maximum. You will immediately receive an e-mail confirming the details of your order. If we believe that we will not be able to deliver within a given time frame we will contact you can to arrange how to proceed. Our dedicated team can arrange a Fast special delivery service with many options at our disposal, each sale offering a personal touch.
If you have any special requests for packaging, delivery, gift wrapping the item which we will do free of charge, please let us know, do not hesitate to ask. All you need to do is send an e-mail to info@vandlysgalleri.co.uk while you place your order (ensuring that your request matches the same e-mail address that you have purchased /specified as your own) and we will do our best to meet your requirements where possible.
How to purchase an artwork
When you have chosen a purchase, you can start to add items in your basket. At this stage, you are not committed so you can use this as a wish list and at any time go in and delete items by clicking on the delete button at the basket /checkout.
When you are ready to place your order, go to 'checkout' and you will be told the cost, including the delivery of your items if UK. If you are happy with this, you will be given two options of how to Pay via Pal Pal or direct encrypted safety locked card processing.
For framed pictures these are packaged using bubble wrap and foam and boxed. They are then despatched by Special agreed courier service or again by Special Delivery. For other works/pictures, depending on size, they will be either rolled and put in a tube or flat-packed in double cardboard, carefully contained in acid-free tissue, and sent by Royal Mail Special Delivery. You will only be charged once for delivery at the agreed rate.
Free Delivery applies to larger items / framed paintings / high ticket items. For smaller prints and flat packed artworks, a small charge will apply as set by Royal mail rates. (e.g. 250g £3.85 500g  1kg  2kg £8.92  5kg £15.85  10kg £21.90 – upwards
If you order two pieces of artwork, you will only be charged the delivery once if and where possible we can package your artwork together.
SHIPPING to europe and the rest of the world
Please contact the gallery for shipping outside of the UK. To give you an idea of the costs please follow the link: https://www.postoffice.co.uk/mail/international-standard
International courier guide see here: https://www.parcelforce.com/sending-parcel/international-parcel-delivery
Eg. Parcelforce Worldwide – Europe
globalpriority 3 kg.
From 4 days delivery Up to £500 for loss or damage Tracked
Cost – £ quotes
Parcelforce Worldwide – USA
globalpriority
More details
From 4 days delivery Up to £500 for loss or damage Tracked
£ quote
Parcelforce Worldwide – Europe
globalpriority
More details – up to 30kg
3 days guaranteed Up to £1000 for loss or damage Tracked
£80 – 100
Parcelforce Worldwide
globalpriority
More details – up to 30kg
From 4 days delivery Up to £1000 for loss or damage Tracked
£ quote
In the first instance please contact the gallery for shipping:
Other guidance: We use Internationally, both FedEx and DHL which offer a large variety of services with different costs and shipping times. DHL provides many services, some are expensive fast track services available both by air and by road. … The International Priority service represents the fastest option for FedEx international shipments.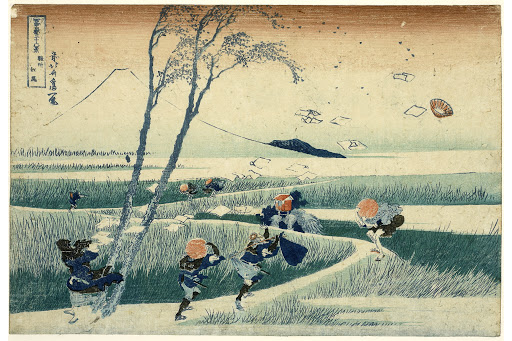 Image: Katsushika Hokusai: "Ejiri in Suruga Province." It's the 10th image in his renowned cycle "Thirty-Six Views of Mount Fuji."
The woodcut is the art of engraving on wood by hollowing out with chisels areas of a plank, usually cherry wood, pear, apple or boxwood, leaving a design on the surface. The transfer of this design on to paper is achieved by inking the surface with typographic ink and applying pressure with a press. The woodcut technique was used for decorating textiles in China from as early as the 5th Century AD and by the 15th century it was applied to religious images and playing cards in Europe. The finest exponents of the woodcut in 16th century Europe were the Germans, Albrecht Durer, Hans Holbein and Lucas Cranach.
By the early 19th century, woodcuts were largely supplanted in commercial work by the technique of wood engraving (a more exact process where the design is incised on the end of a hardwood block) and it wasn't until the latter part of that century when artist rediscovered woodcuts as a medium of artistic expression. Among these were Edvard Munch, who used softwoods and Paul Gaugin, who achieved interesting effects by sanding the wood. The Japanese, traditional masters of the woodcut, must be acknowledged as important forerunners of much of the work done by Westerners throughout the 20th century.